Posts for: April, 2019
By Courtney Camp Highsmith, DMD
April 15, 2019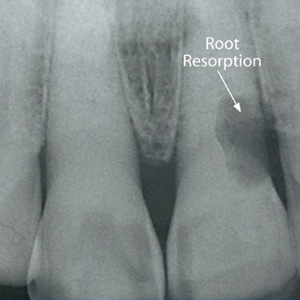 As your dental provider, we're always alert for signs of tooth decay or periodontal (gum) disease, the two leading causes of tooth loss. But we're also watching for less common conditions that could be just as devastating.
Root resorption falls into this latter category: it occurs when a tooth's root structure begins to break down and dissolve (or resorb).  It's a normal process in primary ("baby") teeth to allow them to loosen and give way when permanent teeth are ready to erupt.
It's not normal, though, for permanent teeth. Something internally or—more commonly—externally causes the root structure to break down. External resorption usually occurs at the neck-like or cervical area of a tooth around the gum line. Known as external cervical resorption (ECR), it can first appear as small, pinkish spots on the enamel. These spots contain abnormal cells that cause the actual damage to the root.
We don't fully understand how root resorption occurs, but we have identified certain factors that favor its development. For example, it may develop if a person has experienced too much force against the teeth during orthodontic treatment. Injury to the periodontal ligaments, teeth-grinding habits or some dental procedures like internal bleaching may also contribute to later root resorption.
Early diagnosis is a major part of effective treatment for root resorption. Because it's usually painless and easily overlooked, resorption is often too difficult to detect in its early stages without x-rays—a good reason for regular dental exams. Beginning spots or lesions are usually small enough to surgically remove the tissue cells causing the damage and then filled with a tooth-colored filling material. If it has advanced further, we may also need to perform a root canal treatment.
At some point, the damage from root resorption can be too great, in which case it might be best to remove the tooth and replace it with a dental implant or similar restoration. That's why catching root resorption early through regular dental exams can give you the edge for saving your tooth.
If you would like more information on diagnosing and treating root resorption, please contact us or schedule an appointment for a consultation. You can also learn more about this topic by reading the Dear Doctor magazine article "Root Resorption: An Unusual Phenomenon."
By Courtney Camp Highsmith, DMD
April 05, 2019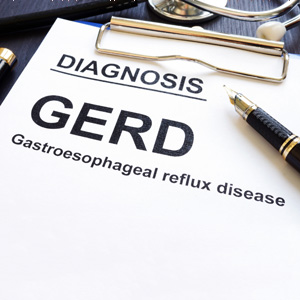 Most dental problems arise from tooth decay and periodontal (gum) disease. But they aren't the only source of danger to your teeth—gastroesophageal reflux disease (GERD) could be just as damaging to your tooth enamel as dental disease.
GERD usually occurs when a ring of muscles at the top of the stomach weaken, allowing stomach acid to enter the esophagus. This resulting acid reflux can make life unpleasant and pose potential health dangers—over time it can damage the lining of the esophagus and cause ulcers and pre-cancerous cells. It can also erode tooth enamel if acid enters the mouth and raises its level of acidity.
This can be a problem because acid can soften and dissolve the mineral content of tooth enamel. This is the primary cause of tooth decay as acid produced by oral bacteria attack enamel. The more bacteria present, often thriving in dental plaque, the higher the potential levels of acid that can damage enamel. Stomach acid, which is strong enough to break down food, can cause similar harm to enamel if it causes higher than normal acidity in the mouth.
There are some things you can do to protect your teeth if you have GERD, namely manage your GERD symptoms with lifestyle changes and medication. You may need to avoid alcohol, caffeine or heavily acidic or spicy foods, all known to aggravate GERD symptoms. Quitting smoking and avoiding late night meals might also ease indigestion. And your doctor may recommend over-the-counter or prescription drugs to help control your acid reflux.
You can also boost your teeth's enamel health by practicing daily brushing and flossing—but not right after a reflux episode. The enamel could be softened, so brushing can potentially remove tiny particles of mineral content. Instead, rinse with water mixed with or without a little baking soda to help neutralize acid and wait about an hour—this will give saliva, the mouth's natural acid neutralizer, time to restore the mouth's normal pH level.
And be sure you're using a fluoride toothpaste. Fluoride strengthens enamel—in fact, your dentist may recommend topical fluoride applications to boost the effect.
These and other tips can help minimize the effects of GERD on your dental health. With an ounce of prevention, you can keep it from permanently damaging your teeth.
If you would like more information on managing your dental health with GERD, please contact us or schedule an appointment for a consultation. You can also learn more about this topic by reading the Dear Doctor magazine article "GERD and Oral Health."