Posts for: January, 2020
By Courtney Camp Highsmith, DMD
January 20, 2020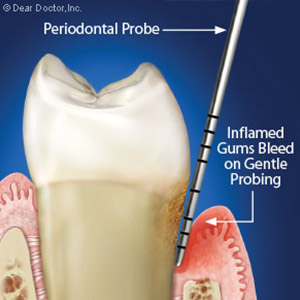 How do you know if you have periodontal (gum) disease? Sometimes your gums will tell you—when they're red, swollen or bleed easily.
But your gums can also look and feel healthy while a gum infection still brews below the gum line. In this case, a regular dental visit could make the difference. Even without overt signs of infection, we may be able to detect gum disease with a slender metal instrument called a periodontal probe.
Gum disease is a bacterial infection that most of the time arises from dental plaque. This thin film of bacteria and food particles accumulates on tooth surfaces, especially because of poor or non-existent oral hygiene. A continuing infection can weaken gum tissues and cause them to pull away or detach from the teeth.
Normally, there's a slight gap between the gums and teeth. But as the infected gums pull away, the gaps grow larger and deeper, forming what are known as periodontal pockets. They become filled with infection that soon spreads to the root and bone and increases the risk of tooth loss.
These pockets, though, could be the means for detecting a gum infection with the help of the periodontal probe. During a dental exam we gently insert the probe, which has millimeter depth markings etched on it, between a tooth and its adjacent gums. While a depth of 1 to 3 mm is normal, a probe measurement of 4 to 5 mm could be a sign of an early stage infection. A reading of 7 to 10 mm, on the other hand, may indicate more advanced disease.
Along with other factors, periodontal probing can be quite useful identifying both the presence and extent of a gum infection and then how to treat it. The goal of any treatment is to remove plaque and tartar (calculus) deposits that sustain the infection. But probing, along with other diagnostic methods like x-rays, could point to deeper infection below the gum line that require more extensive methods, including surgery, sometimes to access and remove the disease.
Achieving the best treatment outcome with gum disease often depends on finding the infection early. Periodontal probing helps to make that discovery more likely.
If you would like more information on diagnosing and treating gum disease, please contact us or schedule an appointment for a consultation.
By Courtney Camp Highsmith, DMD
January 10, 2020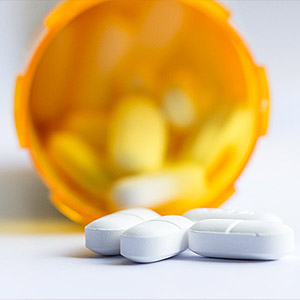 The ongoing opioid addiction epidemic has brought together government, law enforcement and healthcare to find solutions. The focus among doctors and dentists has been on finding ways to reduce the number of opioid prescriptions.
Opioids (or narcotics) have been a prominent part of pain management in healthcare for decades. Drugs like morphine, oxycodone or fentanyl can relieve moderate to extreme pain and make recovery after illness or procedures much easier. Providers like doctors and dentists have relied heavily on them, writing nearly 260 million narcotic prescriptions a year as late as 2012.
But although effective when used properly, narcotics are also addictive. While the bulk of overall drug addiction stems from illegal narcotics like heroin, prescription drugs also account for much of the problem: In 2015, for example, 2 million Americans had an addiction that began with an opioid prescription.
The current crisis has led to horrific consequences as annual overdose deaths now surpass the peak year of highway accident deaths (just over 54,000 in 1972). This has led to a concerted effort by doctors and dentists to develop other approaches to pain management without narcotics.
One that's gained recent momentum in dentistry involves the use of non-steroidal anti-inflammatory drugs (NSAIDs). NSAIDs like acetaminophen, ibuprofen or aspirin work by dilating blood vessels, which reduces painful inflammation. They're available over the counter, although stronger doses require a prescription.
NSAIDs are effective for mild to moderate pain, but without the addictive properties of narcotics. There are some adverse health consequences if taken long-term, but limited use for pain or during post-procedure recovery is safe.
Many dentists are recommending NSAIDs for first-line pain management after most dental procedures. Narcotics may still be prescribed, but in a limited and controlled fashion. As part of this new approach, dentists typically combine ibuprofen and acetaminophen: Studies have shown the two work together better at reducing pain than either one individually.
Still, many aren't eager to move away from the proven effectiveness of narcotics to primarily NSAIDs. But as these non-addictive drugs continue to prove their effectiveness, there's hope the use of addictive opioids will continue to decrease.
If you would like more information on pain management practices in dental care, please contact us or schedule an appointment for a consultation.