Posts for tag: dental care
By Courtney Camp Highsmith, DMD
June 18, 2020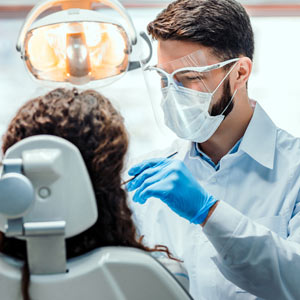 Over the last few months, federal, state and local officials have taken extraordinary measures to slow the spread of COVID-19. Thankfully, some of these measures are beginning to ease. But for many of us, lingering concerns about exposure to the virus will continue to affect our daily lives—including routine activities like dental visits.
We may be asking the question "Is it safe?" for our everyday activities for some time to come. But in regard to seeing your dentist, the answer to that question is an unequivocal "Yes." That's due not only to enhanced precautions put in place because of COVID-19, but also to longstanding practices in the dental profession to minimize the chances of infection.
In recognition this June of National Safety Month, we'd like to put your mind at ease that resuming dental care won't put you at undue risk of COVID-19 or any other infectious disease. Here's how:
Protocols. Everything we do to protect patients and staff from infection is part of an overall plan. This isn't optional: Both governments and professional organizations require it of every dental practitioner. Our plan, based on best practices for infection control, details the procedures we'll use to keep everyone involved in dental treatment, including you, safe from infection.
Barriers. Wearing masks, gloves or other protective equipment isn't a new practice arising from the current crisis—barrier protection has been a critical part of infection control protocols for many years. Rest assured that even during the most routine dental procedures, our staff will wear appropriate barrier equipment to reduce the possibility of infection during treatment.
Disinfection. Viruses and other infectious agents can live for some time on surfaces. To close this possible route of infection, we clean all clinical surfaces between patient visits with approved disinfectants. Instruments and equipment are thoroughly sterilized after each use. And any waste generated during treatment is separated from common waste and disposed of carefully following hazardous waste removal protocols.
It may be a slow return to many aspects of life we once took for granted. Your dental care doesn't have to be one of them. We were prepared before this crisis, and we'll continue to be prepared when it's over to keep you safe from infection.
If you would like more information about dental office safety, please contact us or schedule a consultation. To learn more, read the Dear Doctor magazine articles "Infection Control in the Dental Office" and "Dental Hygiene Visit."
By Courtney Camp Highsmith, DMD
September 02, 2019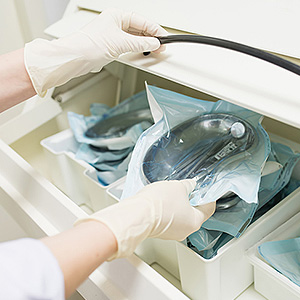 Visiting the dentist for regular cleanings and needed dental work can do wonders for keeping your teeth and gums in tip-top shape. But if you've seen or heard about infections occurring in healthcare facilities, you might be a little concerned that your trip to the dentist might expose you to one. Don't be! You and your family will be out of harm's way because your dental team has made protection from viruses, bacteria and other infectious agents a top priority. To highlight this effort, the American Academy of Oral Medicine commemorates each September as "National Dental Infection Control Awareness Month."
As a healthcare provider, dentists have a legal, moral and ethical obligation to protect patients (and staff members too) from infection through what are known as "standard precautions." These include barrier protection, disinfection and sterilization practices, and safe disposal of contaminated items.
But dentists and their professional organizations don't stop with the minimum requirements—they're committed to a higher standard when it comes to infection control. The bedrock for this commitment is adherence to an infection control checklist developed by the U.S. Centers for Disease Control (CDC), updated regularly. This in-depth checklist recommends several best practices and protocols, including:
Creating a written infection control plan that outlines all practices and procedures to be followed by the provider and staff;
Barrier protection, including the wearing of disposable gloves, face shields or gowns by providers as appropriate;
Proper disposal methods for used items;
Proper hand washing and other hygiene practices before and after treatment procedures;
Proper disinfection and sterilization of instruments and equipment;
Most licensing bodies also require that dentists and their staff undergo continuing education in infection control, usually every two years.
Because you as a patient have a right to know the details about your medical and dental care, you have public access to infection control guidelines and requirements. You can also ask your dental provider about what steps they take to protect you and your family from infectious disease. They'll be glad to answer any questions you have to put your mind at ease about your safety.
The dental profession's commitment to patient and staff safety has drastically reduced the risk of any infection. Rest assured, your dental visit will be beneficial for your oral health—and safe for your general health too.
If you would like more information about infection control in the dental office, please contact us or schedule a consultation. To learn more, read the Dear Doctor magazine articles "Infection Control in the Dental Office" and "Shingles, Herpes Zoster: A One-Sided Facial Rash."
By Courtney Camp Highsmith, DMD
May 10, 2018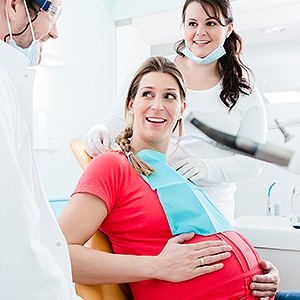 Pregnancy creates enormous changes in your physical body. These changes, especially on the hormonal level, can impact many aspects of your health including teeth and gums.
While it's easy to let dental care take a back seat to other health concerns, you should actually pay close attention to it while you're expecting. Here are 4 things to focus on during pregnancy to avoid problems with your dental health.
Don't avoid dental work unless otherwise advised. You may be concerned about undergoing dental procedures during pregnancy, especially those that involve anesthesia. But both the American Congress of Obstetricians and Gynecologists (ACOG) and the American Dental Association (ADA) encourage pregnant women to continue regular dental visits for cleanings and checkups. And unless your obstetrician advises otherwise, it's usually safe to undergo dental work that can't wait.
Be on the lookout for pregnancy gingivitis (gum disease). Because of the hormonal changes that occur during pregnancy, your gums could be more susceptible to gum disease caused by plaque buildup. That's why you should be on alert for signs of a gum infection like swollen, reddened or bleeding gums. And be sure to practice diligent, daily brushing and flossing to remove disease-causing plaque, as well as regularly visiting your dentist for professional cleanings.
Make sure your diet is "tooth" friendly. Because of the changes in your body, you may experience food cravings that alter your normal dietary habits. So as much as possible, try to keep your food choices in line with what's best for your teeth and gums: minimize your sugar intake (a prime food source for disease-causing bacteria); and focus on nutritiously balanced meals and snacks.
Keep your entire healthcare team informed. When you make your next dental appointment, tell your dentist you're pregnant and how far along, any medications and supplements you're taking, or any complications you may be experiencing. This information could have a bearing on how your dentist approaches any treatment. Likewise, let your obstetrician know about any issues with your teeth and gums, as well as any suggested dental work you may need.
If you would like more information on dental care during pregnancy, please contact us or schedule an appointment for a consultation. You can also learn more about this topic by reading the Dear Doctor magazine article "Dental Care during Pregnancy."