Posts for tag: gum disease
By Courtney Camp Highsmith, DMD
May 30, 2018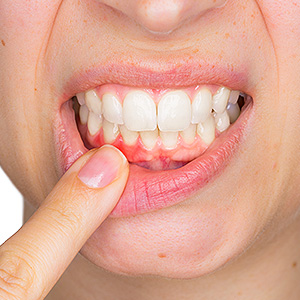 If you think gum disease only happens to the other guy (or gal), think again. If you're over 30 you have a 50-50 chance for an infection. After 65 the risk climbs to 70 percent.
Fortunately, we can effectively treat most cases of gum disease. But depending on its severity, treatment can involve numerous intensive sessions and possible surgery to bring the disease under control. So, why not prevent gum disease before it happens?
First, though, let's look at how gum disease most often begins—with dental plaque, a thin film of bacteria and food particles built up on teeth and gum surfaces. If plaque isn't consistently removed through daily brushing and flossing, it doesn't take long—just a few days—for the bacteria to infect the gums.
While it's not always easy to detect gum disease early on, there are signs to look for like red, swollen and tender gums that bleed easily when you brush or floss, and bad breath or taste. The infection is usually more advanced if you notice pus-filled areas around your gums or loose teeth. If you see any of these (especially advanced signs like loose teeth) you should contact us as soon as possible.
Obviously, the name of the game with prevention is stopping plaque buildup, mainly through daily brushing and flossing. Technique is the key to effectiveness, especially with brushing: you should gently but thoroughly scrub all tooth surfaces and around the gum line, coupled with flossing between teeth.
To find out how well you're doing, you can rub your tongue along your teeth after you brush and floss—you should feel a smooth, almost squeaky sensation. You can also use plaque-disclosing agents that dye bacterial plaque a particular color so you can easily see surface areas you've missed. You can also ask us for a "report card" on how well you're doing during your next dental visit.
Dental visits, of course, are the other essential part of gum disease prevention—at least every six months (or more, if we recommend) for cleaning and checkups. Not only will we be able to remove hard-to-reach plaque and tartar, we'll also give your gums a thorough assessment. By following this prevention regimen you'll increase your chances of not becoming a gum disease statistic.
If you would like more information on recognizing and treating gum disease, please contact us or schedule an appointment for a consultation. You can also learn more about this topic by reading the Dear Doctor magazine article "How Gum Disease Gets Started."
By Courtney Camp Highsmith, DMD
March 03, 2018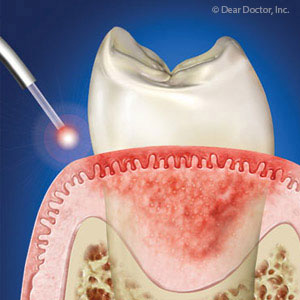 One of the most important revolutions in healthcare in recent decades is the increasing use of lasers. Now, laser technology is making a showing in dental care for the treatment of periodontal (gum) disease.
Lasers (an acronym for "Light Amplification by Stimulated Emission of Radiation") narrowly focus and amplify light within a small area. First developed in the early 1960s, laser technology rapidly advanced in the ensuing decades with more compact and precise devices that were eventually safe and effective for many types of medical procedures. Its remarkable features are now available for the primary focus of gum disease treatment—removing bacterial plaque.
Plaque is a thin, built-up film of bacteria and food particles on tooth and gum surfaces that serves as a haven for the bacteria that cause gum disease. The continuing presence of plaque and calculus (tartar) enables the infection to thrive and advance within the gum tissues, ultimately damaging them along with supporting bone. As the tissues weaken and bone volume diminishes, the teeth are at greater risk for loss.
It's necessary, therefore, first and foremost to remove all detectable plaque and calculus to stop the infection. This is traditionally done with special hand tools called scalers used to manually remove plaque, or with ultrasonic equipment that vibrates plaque loose to be flushed away with water. These procedures can take numerous sessions and may result in some minor post-procedural discomfort and bleeding during the cleaning.
But lasers specifically designed for plaque removal can minimize tissue damage and resulting discomfort. Because the particular laser light used reacts only with plaque and diseased tissue, it can remove them without disturbing nearby healthy tissue usually more efficiently than traditional scaling. Dentists who've used the technology frequently report less bleeding and higher patient satisfaction.
But before lasers for gum disease treatment are widely adopted, the procedure must undergo further scrutiny. Reports from dentists notwithstanding, not enough research studies have been performed to date that meet the necessary scientific criteria. But if the evidence so far from the field holds up, it's quite possible lasers will one day become a regular part of dental practice for treating gum disease.
If you would like more information on treating gum disease, please contact us or schedule an appointment for a consultation. You can also learn more about this topic by reading the Dear Doctor magazine article "Lasers Versus Traditional Cleanings for Treating Gum Disease."
By Courtney Camp Highsmith, DMD
December 10, 2017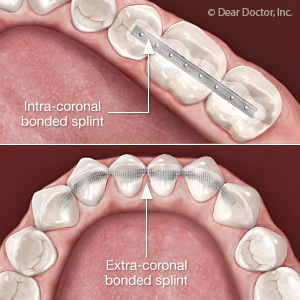 Although periodontal (gum) disease usually affects your gums first, your teeth may eventually suffer. That's because the disease can damage both attaching gum tissues and supporting bone.
One advanced sign of this is when one or more teeth become loose. A loose tooth is an alarm bell that you're about to lose it.
Fortunately, we can often treat loose diseased teeth with a two-phase approach. First and foremost, we need to bring the gum infection under control by removing plaque and calculus (tartar) — the "fuel" for the infection — from all tooth and gum surfaces. Depending on how extensive it is, we have options: we can use specially designed hand instruments to remove plaque and calculus, ultrasonic equipment that loosens and flushes plaque and calculus away, or, if necessary, conventional or laser surgery.
Depending on the extent of the infection, in some cases we may need to use regenerative surgical techniques like gum and bone grafting to replace lost tissue. Healing takes time, though, which leads to the second phase of treatment — securing the loose tooth during gum healing.
The most common way is through a bite adjustment, where teeth are altered to equilibrate chewing forces evenly. This results in all the teeth being hit at the same time allowing the loose teeth to heal and tighten up.
Another option is splinting teeth together. Although there are different methods, the basic idea is to join the loose teeth with stable teeth like pickets in a fence. One way is to bond splinting material across the back surfaces of the involved teeth. Another way is to cut in a small channel across the teeth and insert and bond a rigid strip of metal to splint the teeth in place.
The splint is usually a temporary measure while the gums heal. In some situations, though, we may need to perform a permanent splint by crowning the affected teeth and then splinting the crowns together. If you have a grinding habit we may also prescribe a night guard to limit the damage done while you sleep.
Before deciding on which technique is best for you, we would first need to evaluate the health of the affected teeth to see whether the effort would be worth it. It could be the tooth's supporting bone structure has become so deteriorated that it might be better to extract the tooth and consider an implant or other replacement. First, though, we would attempt if at all practical to save the tooth — and the sooner we begin treating it, the better your chances for such an outcome.
If you would like more information on loose teeth and gum disease, please contact us or schedule an appointment for a consultation. You can also learn more about this topic by reading the Dear Doctor magazine article "Treatment for Loose Teeth."