Posts for tag: nutrition
By Courtney Camp Highsmith, DMD
March 16, 2021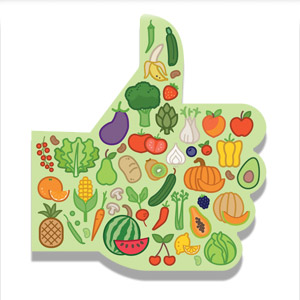 There are great health benefits to eating better, including for your teeth and gums. But to determine your ideal diet, you'll have to come to terms with carbohydrates, the sugars, fiber and starches found in plants or dairy products that convert to glucose after digestion.
Carbohydrates (also known as carbs) are important because the glucose created from them supplies energy and regulates metabolism in the body's cells. But they can also create elevated spikes of glucose in the bloodstream that can cause chronic inflammation. Besides conditions like diabetes or heart disease, chronic inflammation also increases your risk of periodontal (gum) disease, a bacterial infection arising from dental plaque.
Many concerned about this effect choose either to severely restrict carbs in their diet or cut them out altogether. But these hardline approaches deprive you of the benefits of carbs in maintaining good health. There's a better way—and it starts with understanding that not all carbs are the same. And, one difference in particular can help you properly manage them in your diet.
Here's the key: Different carbs convert to glucose at different digestive rates of speed measured on a scale known as the glycemic index. Carbs that digest faster (and are more apt to cause glucose spikes in the bloodstream) are known as high glycemic. Those which are slower are known as low glycemic.
Your basic strategy then to avoid blood glucose spikes is to eat more low glycemic foods and less high glycemic. Foods low on the glycemic index contain complex, unrefined carbohydrates like most vegetables, greens, legumes, nuts or whole grains. High glycemic foods tend to be processed or refined with added sugar like pastries, white rice, or mashed potatoes.
Low glycemic foods also tend to have higher amounts of minerals and nutrients necessary for healthy mouths and bodies. And fresh vegetables in particular often contain high amounts of fiber, which slows down the digestion of the accompanying carbohydrates.
Eating mainly low glycemic foods can provide you the right kinds of carbs needed to keep your body healthy while avoiding glucose spikes that lead to inflammation. You're also much less likely to experience gum disease and maintain a healthy mouth.
If you would like more information on nutrition and dental health, please contact us or schedule an appointment for a consultation. You can also learn more about this topic by reading the Dear Doctor magazine article "Carbohydrates Linked to Gum Disease."
By Courtney Camp Highsmith, DMD
July 09, 2018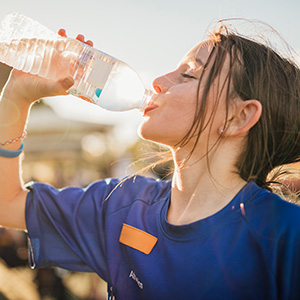 It's easy to work up a thirst in the summer. You might be shooting hoops in the park, riding on a trail or playing volleyball on the beach. No matter what your favorite summertime activity is, outdoor fun can leave you dry—and then it's time to reach for a cold one. But when your body craves hydration, what's the best thing to drink?
The answer's simple: water!
Sure, we've all seen those ads for so-called "energy" and "sports" drinks. But do you know what's really in them? Sports drinks (all of those different "…ades") are mostly water with some sugars, salts and acids. "Energy" drinks (often promoted as "dietary supplements" to avoid labeling requirements) also contain plenty of acids and sugars—and sometimes extremely high levels of caffeine!
Studies have shown the acid in both sports and energy drinks has the potential to erode the hard enamel coating of your teeth, making them more susceptible to decay and damage. And the sugar they contain feeds the harmful oral bacteria that cause tooth decay. So you could say that the ingredients in these beverages are a one-two punch aimed right at your smile.
It's a similar story for sodas and other soft drinks, which often have high levels of sugar. In fact, some popular iced teas have 23 grams (almost 6 teaspoons) of sugar per 8-ounce serving—and a single 24-ounce can holds 3 servings! Many diet sodas (and some fruit juices) are acidic, and may damage your tooth enamel.
Water, on the other hand, has no acid and no sugar. It has no calories and no caffeine. Simple and refreshing, water gives your body the hydration it craves, with no unnecessary ingredients that can harm it. In fact, if you fill a reusable bottle from your own tap, you may not only benefit from cavity-fighting fluoride that's added to most municipal tap water…you'll also be helping the environment by cutting down on unnecessary packaging.
It's best to drink water all of the time—but if you don't, here are a few tips: If you want to enjoy the occasional soda or soft drink, try to limit it to around mealtimes so your mouth isn't constantly bathed in sugar and acid. Swish some water around your mouth afterward to help neutralize the acidity of the drinks. And wait at least an hour before brushing your teeth; otherwise you might remove tooth enamel that has been softened by acids.
What you drink can have a big effect on your oral health—and your overall health. So when thirst strikes, reach for a cold glass of water. It can help keep you healthy this summer…and all year long.
If you would like more information about nutrition and oral health, please contact us or schedule an appointment. You can learn more by reading the Dear Doctor magazine articles "Think Before You Drink" and "Nutrition & Oral Health."
By Courtney Camp Highsmith, DMD
March 29, 2017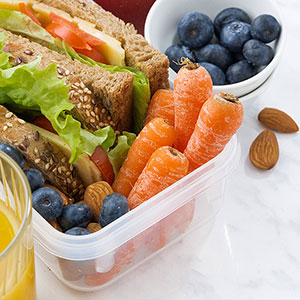 The food we eat not only provides us energy, but it also supplies nutrients to help the body remain healthy. The most important of these nutrients are minerals and tiny organic compounds called vitamins.
While all of the thirteen known vitamins and eleven minerals play a role in overall health, a few are especially important for your mouth. For example, vitamins D and K and the minerals calcium and phosphorus are essential for strong teeth. Another mineral, fluoride, helps fortify enamel, which can deter tooth decay.
Other vitamins and minerals serve as antioxidants, protecting us against molecules called free radicals that can damage cellular DNA and increasing our risk of cancer (including oral). Vitamins C and E and the mineral selenium fall into this category, as well as zinc for DNA repair.
We acquire these nutrients primarily in the foods we eat. But for certain people like older adults or pregnant or nursing women a healthy diet may not be enough. Any person who can't get enough of a particular vitamin or mineral should take a supplement to round out their nutritional needs.
If you don't have a condition that results in a nutrient deficiency, you may not see that much benefit from taking a supplement. In fact, taking too much of a dietary supplement could harm your health. For example, some studies have shown ingesting too much supplemental Vitamin E could increase the risk of heart failure or gastrointestinal cancer. And some dietary supplements can interact poorly with drugs like blood thinners or ibuprofen.
The best way to get the vitamins and minerals your body — and mouth — needs is to eat a healthy diet. Dairy products like fortified milk are a good way to get vitamin D, as well as calcium and phosphorus. Fruits and vegetables are a good source of Vitamin C. And while you can take in fluoride from toothpaste or other oral hygiene products, you'll also find it in seafood and tea.
While good oral hygiene and regular dental visits are necessary for dental health, your diet can also make a difference. Be sure you're getting all the nutrients your teeth and gums need.
If you would like more information on the role of diet in oral health, please contact us or schedule an appointment for a consultation. You can also learn more about this topic by reading the Dear Doctor magazine article "Vitamins & Dietary Supplements."